In album:

Unnati Silks Gadwal Silk sarees online shopping
Gadwal Silk sarees are High count weaves in pure silk, contrasting border and pallu, floral Jamdani work, prominent bootis in rich zari thread weaving.Brocades and stylish borders with motifs of mythical carvings and other shapes embroidered in rich zari. Buy online exclusive designer Gadwal silk saris sarees, pure bridal wedding heavy Gadwal silk saris, designer sari, Gadwal silk saree from Unnati silks, ethnic Indian shopping store. Worldwide express shipping to India, UK, USA, Singapore, oman, others.
Unnati Silks gadwal silk pattu sari onlineshopping
»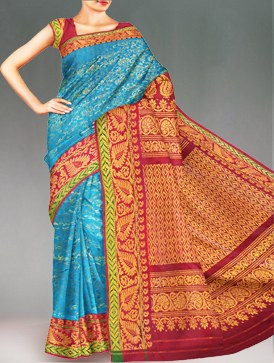 Aqua blue color gadwal jamdani handloom pure silk pattu sari with blouse.This gadval sari has got all over zari floral jamdani weaving along zari weaving mango booti,floral maroon border with zari booti green borders on either side.And it has zari mango booti maroon designer pallu.It is suitable for party and wedding wear.To buy please visit our site http://www.unnatisilks.com/sarees-online/by-popular-variety-name-sarees/gadwal-silk-sarees.html
Reacties
Reactie toevoegen
Log in om een reactie te plaatsen!